Massage Oils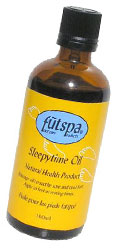 Sleepytime Oil
Reduce inflammation, promote healing, and induce relaxation. The essential oils have calming, healing, and anti-inflammatory properties. The earthy scent also helps to rejuvenate. Inhale the scent while massaging a small amount into each foot for about 5 minutes.
Contains: Grapeseed Oil, Jojoba Oil, Essential Oil Synergy of Lavender, Geranium & Blue Camomile
Back to Top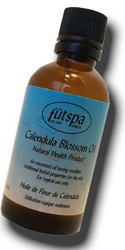 Calendula Blossom Oil
Excellent unscented healing oil. Calendula has antiseptic, anti-fungal and anti-bacterial properties, making it an superb remedy for skin disorders. This is Deborah's (futspa's president) personal favourite! Created with organically grown Calendula from Vancouver Island, British Columbia.
Contains: Organic Calendula blossoms, infused in Grape Seed Oil
Back to Top