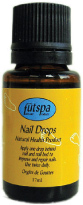 Natural Foot and Skin Care
All our products are made from Pure Natural Oils and Herbs!
Futspa Natural Foot and Skin Care Products are specially formulated creams, oils, sprays, and powders that promote healthy feet and skin. The wonderful rejuvenating effects of these naturally-made health products are an essential addition to a healthy lifestyle. All our products are 100% Guaranteed!
View All futspa Products
More About Us

Fungal infections are very common on toenails. Toenails are likely to be affected by fungus since it is attracted to a dark and damp environment.
Read More

Each month, futspa puts on a combination Special; you receive great value while caring for your feet! This month's Special combination saves you money right now.
Read More